2023 Regulatory Requirements
Tempstar is getting ready for the new 2023 regulatory efficiency requirements and we want you to be ready too! On January 1, 2023, the Department of Energy's (DOE) new minimum efficiency standards for split system air conditioners (ACs) and split system heat pumps (HPs) will go into effect. These new regulations are part of the DOE's ongoing initiative to reduce overall energy consumption in the United States. These changes will present new complexities, but we are prepared, and we are here to support you through this transition.
2023 Minimum Efficiency Changes
The minimum efficiency increases for 2023 will once again vary not only by product type but by geographic region as well. The maps below show the DOE minimum efficiency standards that will go into effect January 2023 based on current (pre-2023) test procedure.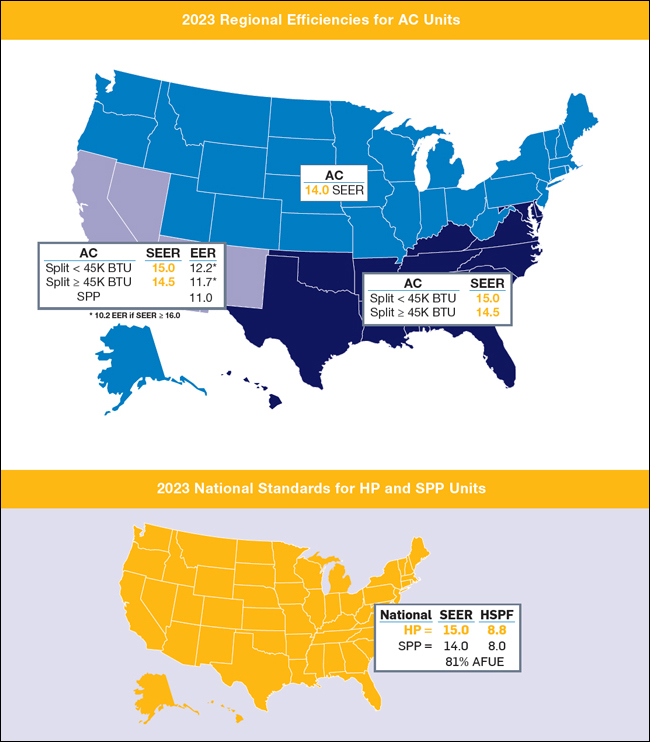 In addition, HVAC manufacturers will be required to comply with a new testing procedure for developing efficiency ratings. We are committed to leading our industry in compliance and we have developed a comprehensive introductory launch booklet to help you fully understand and be prepared for these changes.
What Do the New Regulatory Requirements Mean?
The 2023 efficiency standards represent a 7-8% SEER increase from current minimums, across the board. Under the new program, the majority of our current products will NOT meet the minimum efficiency standards, and all of our current products will need to be retested using the new procedures. The good news is, we have been working for several years in anticipation of these changes, and will be more than ready before the 2023 standards take effect on January 1, 2023. We will be ready with new technology and a new refrigerant!
At Tempstar, we are here to help you safeguard your business.
We will provide detailed training.
Our rating plates will continue to clearly identify regions in which installation of the equipment is prohibited.
We will continue to include an EnergyGuide label on the exterior of the shipping packaging for all condensing units.
We will publish EnergyGuide efficiency rating information for every product online so you can provide this information to your customer before every sale, as required.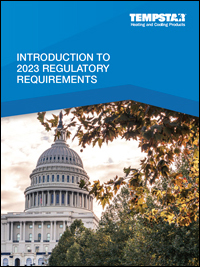 2023 Regulatory Launch Booklet
The Introduction to 2023 Regulatory Requirements Booklet provides more detailed information to help you understand and prepare for the new requirements, including:
► Efficiency Changes - Current vs. 2023
► Test Procedure Ratings Comparisons
► Heil Readiness Plan
► New Technologies
► New Refrigerant
► DOE Enforcement
To download a copy of the booklet, click here.

Stay tuned for more detailed product information coming in the Fall of 2021.